1: What sets this competition website apart from others in the market, and how can it benefit its users?
We are a new competition site located in Belfast local to many people and what sets us from other competitions is that we offer people a better chance of winning with our very low odds as not many people have heard about us. As a start up business in competitions, we have set the range of tickets low in order to make us different and build our social media community and business bigger.
2: What types of competitions does the website offer, and how often are they held?
Onyx competitions offer a variety of competitions from live draws to instant wins competitions.
Our Live Draw Competitions do not have a specific day which it takes place at however under each live draw competition there is a countdown timer which indicates how long is left for the competition to run. Each Live Draw will take place on our Facebook page at Onyx Competitions at 7pm which we will also inform our customers throughout our social media platforms that for example today is our live draw so they do not miss out on it. On the other hand, our instant wins competitions are competitions where you can win goods or cash prises straight away without the need of waiting for a live draw therefore you could be our next potential winner right away after purchasing tickets.
3: How easy is it for users to participate in the competitions, and what is the process for submitting entries?
To participate in our competitions users must be over 18 years of age and be located in Northern Ireland, England, Scotland or Wales. It takes five simple steps in order to participate in our competitions;
visit our website – www.onyxcompetitions.com
log in or register
enter as many competitions as you'd like
answer a multiple-choice question
purchase your ticket
You will then receive an email with your ticket numbers for the live draw or instant wins competitions. You will also receive an email if you are one of our instant winners right away with your ticket and the winning prize beside your number.
4: What are the judging criteria for the competitions, and who are the judges?
We here at Onyx Competition will start off each live draw by opening the Google time and date page in order to prove that the competition is running live then we will move to google number generator page which will generate the winning number from the competition. Onyx competition will not have any influence or will not manipulate the winning number in any way as everything will be running live. If the winning number is an unsold ticket Onyx competition will generate another number until it's a sold ticket number with a winner. Winners will be contacted straight away after or during the live video and will be announced on the website and Facebook page.
5:Are there any prizes or incentives for winners of the competitions, and what is the value of these rewards?
Currently, we are running 5 competitions, 1 of them is an instant win competition which offers many cash prizes from £10 to £1000, two new; Audi a7 and Citroen c4 and many electronics for only £2.50 per ticket. the other four competitions are live draw competition which offers;
Brand new phone – iphone14 or Samsung galaxy s23 (winners' choice) live draw ends on Wednesday 5th April.
Samsung smart watch or apple watch
Samsung 50-inch 4k Ultra HD smart tv
MSI GF63 Thin 15.6″ Gaming Laptop – Intel® Core™ I5, RTX 3050, 512 GB SSD
The estimated value of all the prizes is over £40,000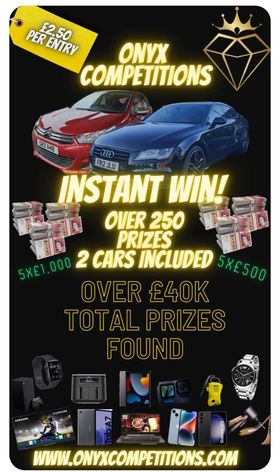 6: How does the website ensure fair play and prevent cheating or plagiarism in the competition entries?
The reason we ask each customer to register is to prevent from situations like cheating or plagiarism as each registered customer receives email with all the purchase information in the email itself with a unrepetitive and unique number us here at Onyx Competition guarantee winners to receive the prize once all details and proof of identification is received by Onyx Competition.
7: What is the cost of participating in the competitions, and are there any membership or subscription fees?
All entries for our live draw competitions are currently for 1.99 per ticket and the entry for instant wins are 2.50 per entry. There is no membership or any hidden subscription fee and the only thing that each customer pays is for their purchased tickets.
Our website is also working with a secure pay-gate team which has check and verified us in order to protect any sensitive transaction details.
8: What types of marketing or promotional strategies is the website using to attract new users and increase participation in its competitions?
Our website offers cashback percentage after each purchase therefore regular customers can build up the sum of money and use it in the next or future transactions. We also use an affiliate programme where each registered customer can use their link to refer our website to their friends and receive 5% of first deposit. We also organise free giveaways on our social medias platforms to encourage more customers to take part in them by liking, commenting and sharing. Our first free giveaway took place on the 30th March where one of the customers have won our air pods.
9: How has the website been received by its early users and industry experts, and what are their thoughts on its potential for success?
So far, the website has a positive opinion from the early users we are also open on receiving feedback from each user whether they are happy with the website and the goods or if its missing something and need improvements. We have done many research in order to satisfy each customer and we will do anything to make our business successful.
10: What are the future plans for the competition website, and how does it aim to evolve and grow over time?
Along with the growing and development of the business and website we will be aiming to offer our audience life changing opportunities, build strong relationships and trust as customer satisfaction and big smile means the most to us.